Functional and Technical Architecture of an e-Citiz Single Window
Functional and Technical Foundations
An e-Citiz Single Window is built on proven technical and functional foundations for each actor within the e-service: the End-Users (Customers or Citizens), the Agents, and the Administrators. These foundations are based themselves on the features of the e-Citiz product.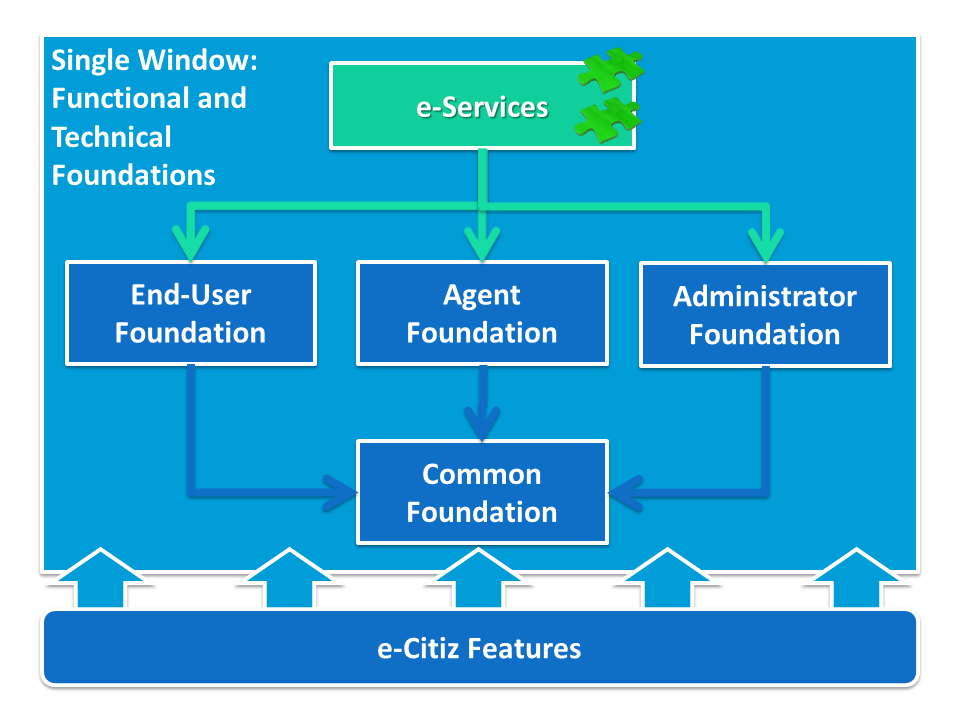 So, the End-Users benefit the following features from the End-User Foundation :
Secure management of his online account and his personal information, with the ability to link with a third-party electronic vault

Forgotten Password

Managing members of his household, and delegations

Electronic vault to store personal documents

Automatic anti-virus scan

Detailed dashboard tracking applications and communication with agents in charge

Quick access to monitor their applications

Messaging

…
On their side, the Agents benefit the following features from the Agent Foundation :
Dashboard of the applications to be processed individually or by each department

Application allocation logic

Monitoring the progress of applications

Dedicated link with applicants: every action taken on a request results in a default e-mail (see below the Administrator Foundation) which may be customized

Agenda Management

Integrated with the knowledge base

…
The Single Window Administrators benefit the following features from the Administrator Foundation :
Information from the organization:

o Contact

o Legal (Privacy Act)

o Address Management

Customization messages and e-mails:

o Greetings screen confirmation, cancellation, etc..

o e-mails sent to applicants by default when they create an account, the submission of an application, its treatment, its management, requests for information etc..

Technical data (URL, mail servers, directories, virus scan etc.)

Department Management

Agents management

e-services management:

o Online / offline e-services

o e-Services allocation

o Customization of emails sent to users when Advanced processing of cases by e-service

Setting the retention period of the applications (Privacy Act)

Management of e-services messages, images and data Teleservices (multiple choice lists, business rules, messages, …)

Repository Management (e.g. offices, kindergartens, canteens… and their opening hours)

…
All these features are based upon the Common Foundation. Here are some samples:
Repository and Back Office Sync by Web Services

Import files (CSV etc)

Integrated anti-virus scanning

Robots Protection: Captcha

Identity management, directories (Active Directory, LDAP, …) …

ESB (Petals)

Online payment (Credit Card gateways)

Back Office Connectors

…
A 24/7/365 plug and play architecture
e-Citiz provides an architecture allowing an incremental deployment of the different e-services.
This allows the high availability of the e-service for end-users: the deployment of an e-service does not impact in any way the availability of existing ones. The deployment of a new e-service doesn't affect the Single Window.
In addition, this architecture can meet an increased workload with the native ability to manage clusters of servers to host e-services of a single window.
For more information, contact us!